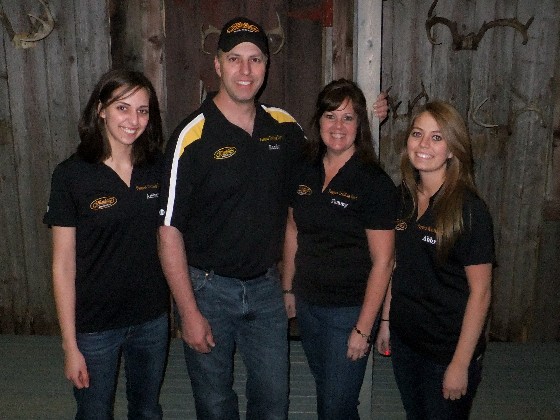 Hunting the Dream
Randy Smith was looking to update his bow for the upcoming season. He stopped into Pappas Trading Post and was so impressed with the gear and facilities, he bought the whole place. Well, it didnít happen quite that fast.
Randy and his wife Tammy are lifelong residents of the Sauk Prairie, Wisconsin area. They have two daughters, Abby and Amber. Just on the other side of the Wisconsin River from the Trading Post, the family lives on a wooded hillside where Randy can hunt, trap, cut firewood, and explore right in the backyard.
Randy, like all of us, has always dreamed of making a living at what he loves to do. What Randy loves is hunting and fishing, but he hesitated at the prospect of such a dramatic career change. Tammy didnít; she knew he was a natural fit to run a business dedicated to helping archers excel.
Growing up outdoors, Randy fished the Wisconsin River and northern Wisconsin lakes with his dad. Heís been hunting the wooded bluffs and marshes of the Wisconsin River Valley and its tributaries since hunter safety. There were also annual mule deer hunts in Wyoming for a stretch. He had fished the wilderness in the Boundary Waters Canoe Area Wilderness in northern Minnesota, hunted pheasants in South Dakota, bear in northern Wisconsin, moose in Canada, and so on. Itís what he lives to do.
An aspect he enjoys is sharing experiences of the hunting and fishing community. There are numerous stories of both successes and calamities, some true, some embellished. Ideas regarding tactics, hot spots, game calls, and equipment are regularly exchanged. Randy had always been generous helping others with less experience or knowledge on a particular outing. Form giving advice on equipment, critiquing a stance or release, to holding a spur-of-the-moment demonstration for a struggling angler on how to fillet ĎY bonesí out of a northern, Randy gets fulfillment from helping others have a successful hunting or fishing experience.
After a 25 year career of operating precision machinery and training new and experienced operators on new equipment, a fresh career outfitting archers with the latest gear form Mathews and Mission was in fact an ideal fit. So stop by the Trading Post in Arena, Wisconsin to meet Randy, Tammy, and the knowledgeable staff. Talk turkey, deer, elk, and walleye, or sharpen your skills in the 40 yard range to try out the best gear on the planet.